Monday's always tend to present a bit of a challenge. This Monday is particularly difficult. I've just had the most incredible, fun-filled weekend with my closest friends and my twin who made a special trip to the District to visit. Incredible and fun-filled also tends to lead to exhausting, coupled with the fact that I drove my brother to the airport at 5 am this morning and some Spring Nor'Easter is trying to drown the DC-Metro area, and I am not really warming up to this Monday.
Now, I'm not going to complain. I am just going to find some sources of motivation to work hard for the money. Case in point: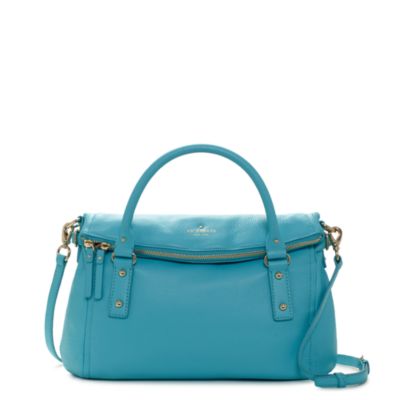 What more could a girl want on a dreary day than a beautiful teal leather Kate Spade purse? Talk about a pick me up!
This "Leslie" purse from the Cobble Hill collection will set you back a smooth $348 and comes in my obvious favorite, teal, orange and black. There is a larger version of the "Leslie" but it doesn't come in teal. There are a few others in the Cobble Hill collection that come in bright spring colors, too.
Check them out here if you want some motivation of your own!